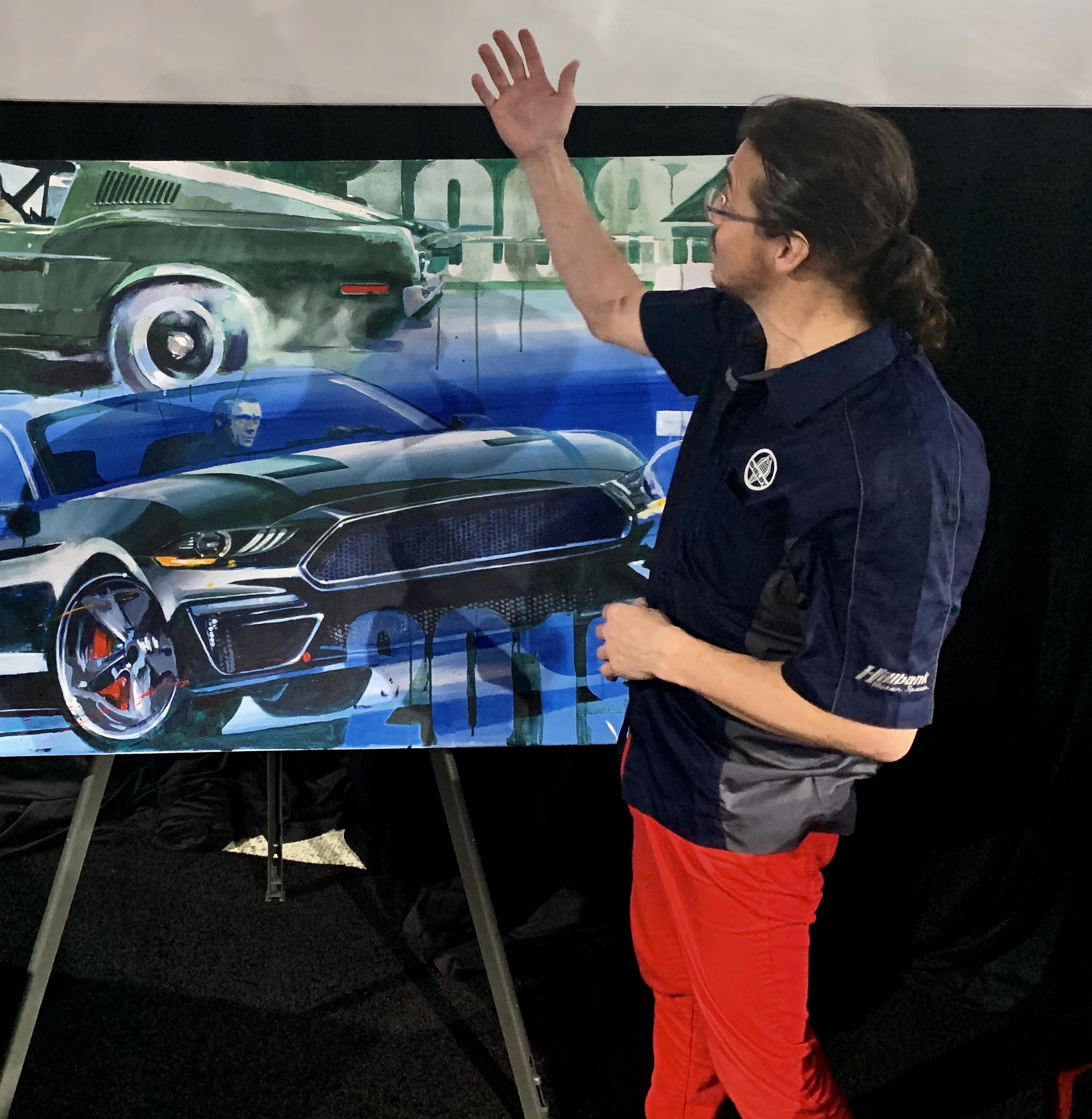 This Original Artwork by famed automotive designer, artist, and enthusiast Camilo Pardo will be auctioned by the Boys Republic of Chino Hills, California. Commissioned to celebrate the legacy of Steve McQueen and to commemorate the launch of the 2019 Steve McQueen Edition Bullitt Mustangs, this painting captures the automotive spirit and legacy of Steve McQueen in painting as only Camilo Pardo can capture it. The net financial proceeds of the auction will benefit the Boys Republic.
In addition, every original titled purchaser of a Steve McQueen Edition Bullitt Mustang will also receive an archival signed print of this painting that will be numbered to their car as part of the Steve McQueen Edition Vehicle Purchasers Package.

To receive informational updates about the auction or to register for online bidding, please email: mcqueen@steedavehicles.com

About the Boys Republic: The Boys Republic is a private, nonprofit, nonsectarian school and treatment community for troubled youngsters. Since its founding in 1907, it has guided more than 30,000 at-risk teenage boys and girls toward productive, fulfilling lives.
On its central school and farm in Chino Hills, California, and in residential and day treatment centers in other communities, Boys Republic and its companion program, Girls Republic, help children in desperate need find within themselves the resources and skills to begin meaningful lives on their own. The Mission of the Boys Republic is to give adolescent youth with behavioral, educational, and emotional difficulties an opportunity to achieve their maximum potential for responsible, self-directed life within the community. Throughout Steve McQueen's life he acknowledged that the Boys Republic taught him crucial attributes of life and that helped him become the successful box office star that he was. After Steve McQueen attained international success, he frequently visited the school to show his gratitude and share his experiences with students and staff, often inviting journalists and photographers to accompany him. Emblazoned on the bronze plaque in the Boys Republic Recreation Center are these words: "Steve McQueen came here as a troubled boy but left here a man. He went on to achieve stardom in motion pictures but returned to this campus often to share of himself and his fortune. His legacy is hope and inspiration to those students here now, and those yet to come."
About Camilo Pardo: Born in New York City, Camilo moved to Detroit at the age of 10 and had by that age developed a fascination with 60s and 70s era sports cars and modern art. After graduating from Detroit's prestigious design school Center for Creative Studies in 1985, Camilo was hired by Ford Design Center in Dearborn Michigan. His assignments included working in the Dearborn Advanced Studios, Ford of Europe- Torino, Italy Studio , and the Design Studios in Cologne Germany. After 15 years at Ford Motor Company, he took on what was for him the ultimate assignment ... a state of the art re-design of the classic Ford GT race car. This project developed the 2002 Ford GT concept car. As chief Designer of the Ford GT and the SVT Studio, Camilo's team worked on the 2005 and 2006 production Ford GT . The GT became an instant success capturing the interest of car enthusiasts around the world.
At the end of the work day at Ford, Camilo continued to explore an additional avenues of art & design. With the integration of Design principles and the abstractions of Fine Art, Camilo explores alternative design solutions. This work is created in his studios, located in the city of Detroit and Los Angeles. Camilo is a serious, multi-faceted artist with incomparable creative energy. This creativity is evident in his large, brightly colored oil paintings on canvas.This includes a large production of Automotive Fine Art. The same quality of creativity reaches a line of fashion design, that he describes as advanced fashion concepts. As a dedicated artist who sets no limits on his creative endeavors, Camilo has found that his outside artistic expressions further strengthen and complements his passion for automotive design.